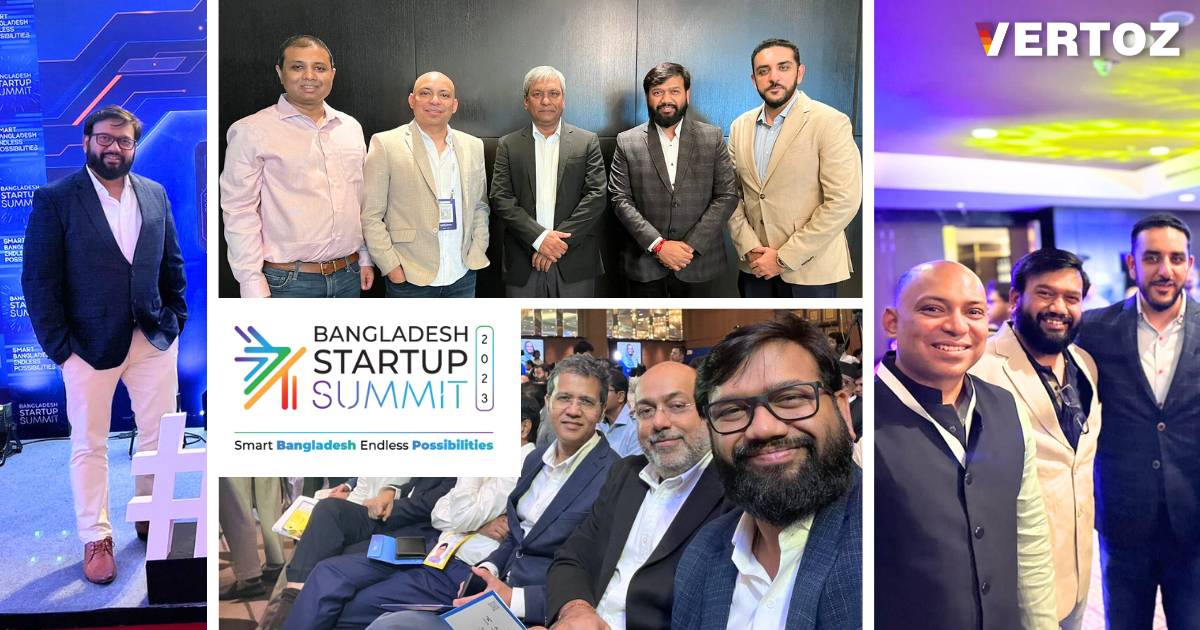 Mr. Hiren Shah, the esteemed Founder & Chairman of Vertoz– a leading Technology Platform Enterprise, was honored with an invitation from the government of the People's Republic of Bangladesh, Ministry of Home Affairs, to participate in the prestigious "Bangladesh Startup Summit 2023." The two-day event took place at the InterContinental Hotel in Dhaka, Bangladesh, on 29th and 30th July 2023.
The Bangladesh Startup Summit 2023 was a landmark occasion that aimed to foster innovation, entrepreneurship, and collaboration within the burgeoning startup ecosystem of Bangladesh. The event gathered prominent entrepreneurs, industry leaders, government officials, and experts to discuss and strategize the growth of startups in the region.
As the Founder & Chairman of Vertoz, Mr. Hiren Shah's expertise and invaluable insights have played a pivotal role in the success of the company and the digital advertising landscape. His participation in the summit not only showcased Vertoz's commitment to driving innovation but also highlighted its dedication to supporting emerging startups and fostering entrepreneurial growth in the region.
At the summit, Mr. Hiren Shah played an active role in interfacing with fellow entrepreneurs, offering valuable insights into his own entrepreneurial trajectory and providing a glimpse into the future of digital advertising and technology trends for budding startups. In addition to his engaging discourse, he adeptly navigated discussions and networking opportunities with prominent figures in the industry, thereby catalysing the creation of collaborative ventures and the exploration of potential partnerships. Notably, the event was graced by Bangladesh Prime Minister, Ms. Sheikh Hasina, who presided as the esteemed chief guest, adding an extra layer of significance to Hiren's participation.
"It is an immense honour to be invited by the government of Bangladesh to attend the Bangladesh Startup Summit 2023," said Mr. Hiren Shah. "I am delighted to share my experiences and insights with the vibrant startup community in Bangladesh, and I truly believe that together, we can nurture innovation and drive economic growth in the region."
The event concluded on a high note, with participants expressing their gratitude for Mr. Hiren Shah's invaluable contribution to the summit. His vision and dedication to fostering entrepreneurial spirit align perfectly with the objectives of the Bangladesh Startup Summit 2023.
About Vertoz:
Vertoz (NSEI: VERTOZ) empowers organizations to thrive in today's digital landscape with proprietary new-age technology platforms for Digital Marketing, Advertising, and Monetization. Vertoz platforms cater to businesses, digital marketers, advertising agencies, digital publishers, and other technology companies. Our Key Platforms include IngeniousPlex, IncrementX, Adzurite & AdMozart.
For media inquiries, please contact:
Richa Chikara
Lead Corporate Communication
Email: richa.chikara@vertoz.com
Phone: +91 22 61426067 / +1 (646) 895 6969