Location-based advertising has become increasingly popular among marketers in recent years. It allows businesses to target their audience based on their geographical location and provide personalized, relevant content. In this blog post, we will decode location-based advertising and explore its various techniques.
Table of contents:
Geo-Targeting
Geo-targeting refers to the method of displaying ads to individuals based on their physical location. This technique involves using various means to identify the user's location, including their IP address, GPS coordinates, or Wi-Fi signals. By analyzing this information, marketers can deliver personalized and relevant ads to users based on their location. For instance, promotions and offers can be tailored to individuals in a particular city or region.
Proximity Targeting
Proximity targeting is a marketing tactic that involves targeting individuals based on their physical proximity to a particular location. This method leverages Bluetooth beacons or Wi-Fi signals to identify the user's location and provide tailored ads. Proximity targeting is frequently utilized in large venues such as stadiums, malls, and other public areas to deliver customized ads to individuals based on their location. By utilizing this technique, marketers can provide personalized advertising experiences, leading to better engagement and increased conversion rates.
Geo-Conquesting
Geo-conquesting is a technique that involves targeting individuals who are in the vicinity of a competitor's location. This technique involves setting up a geo-fence around a competitor's location and targeting individuals who enter that area with personalized ads. This technique can be used to steal market share from competitors and attract customers to your business.
Geo-Fencing
Geo-fencing is a location-based marketing technique that involves establishing a virtual boundary around a specific physical location. When a user enters or exits this boundary, they will receive customized ads on their mobile device. This technique utilizes GPS or RFID technology to track a user's location and deliver targeted ads in real time. Geo-fencing is frequently used by retailers to attract customers to their physical stores by offering discounts, promotions, or exclusive offers to users who enter the geo-fenced area. Additionally, this technique can be used by businesses to gain insights into consumer behavior and gather data on foot traffic patterns. By utilizing geo-fencing, marketers can enhance their targeting capabilities, improve ad relevancy, and ultimately drive more conversions.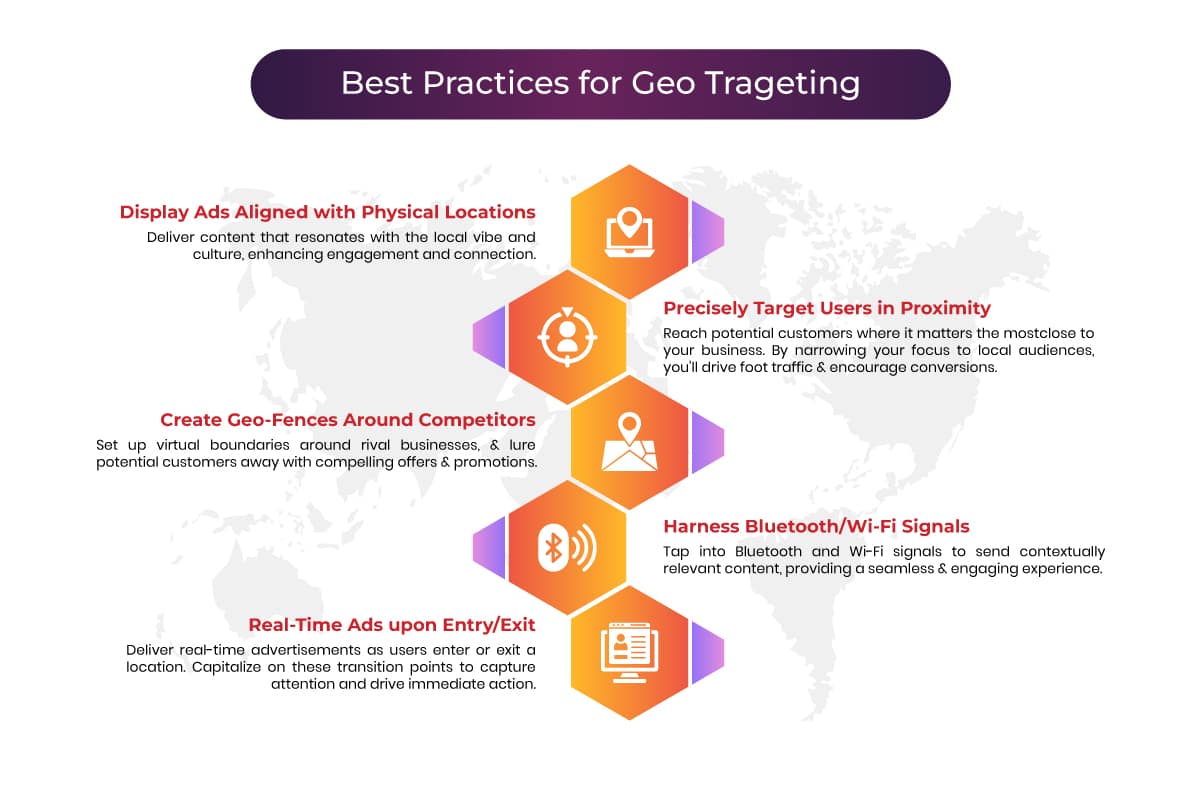 In conclusion, location-based advertising has become an essential tool for marketers to reach their target audience effectively. Techniques such as geo-targeting, geo-fencing, geo-conquesting, and proximity targeting offer businesses the opportunity to provide personalized, relevant content to their audience based on their location. By leveraging location-based advertising, companies can increase engagement and drive conversions, ultimately leading to increased revenue and growth.