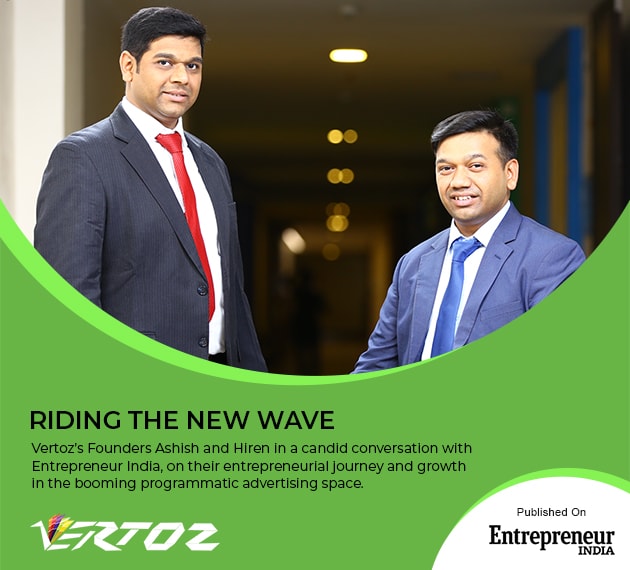 Vertoz's Founders Ashish and Hiren Shah in a candid conversation with Entrepreneur India, on their Entrepreneurial journey and growth in the booming programmatic advertising space
A decade before Vertoz came into existence, Ashish Shah & Hiren Shah started their first venture called Indiafreemail.com, which had brought down the mailing period for international posts from 30-45 days to the astounding period of just a week. While that business model didn't live long, it didn't deter the determination of the Shah brothers. In a recent interaction with the Entrepreneur Magazine, Hiren and Ashish share their journey about the formation of Vertoz. Here are a few excerpts.
While sharing the inspiration for building Vertoz, Ashish Shah (Founder & CEO) says "Back then, the advertisers struggled with unclear campaign reports, fixed price for the inventory, lack of targeting options, etc. On the other hand, publishers too were swamped with problems. Thus, in order to address these pressing issues, we decided to develop our in-house programmatic platform- Ingenious Plex."
Reminiscing on the early days of Vertoz, Ashish shares the struggles of being based in India and having to rely upon and source from foreign lands for infrastructures like servers and machinery. Their journey has involved changing the mindset of advertisers and drawing their attention to the numerous benefits of digital advertising, and especially, programmatic advertising, which promises them a higher Return on Ad Spends (ROAS).
Owing to their relentless efforts, the company has been witnessing tremendous growth in the past few years. The past three years have seen a robust YoY growth rate of 56%. In fact, in the past one year – between FY 2017-18- the company has grown by 81.45% in terms of revenue and 87.30% in terms of profit. The progress of the company hasn't been singularly dependent upon the RTB model, but also on advanced technologies like Artificial Intelligence (AI) and Machine Learning (ML).
Technology lies at the core of Vertoz. It believes in adopting the latest innovations in it's operating model. Vertoz is ready to experiment with the new-age technologies like augmented reality, virtual reality along with podcast and header bidding. Furthermore, the company is also focused on spreading its wings across different continents.
To Know More, Click Here.